Master's Degree Programme 'Copernicus Master in Digital Earth'
The two year full-time integrated Erasmus Mundus Joint Master Degree (EMJMD) Programme aims at qualifying individuals to lead initiatives, projects and institutions translating Copernicus services into management decisions within a broader Digital Earth vision.
Digital Earth is a concept well established since 1998, focusing on the interaction between humans and virtual representations of our world from local to global scales. More recently, this concept has gained traction as a framework for leveraging geospatial technologies for better management of our societies, environments and economies. Quoting the 2009 Beijing DE Declaration: "Digital Earth is an integral part of advanced technologies including: earth observation, geo-information systems, global positioning systems, communication networks, sensor webs, electromagnetic identifiers, virtual reality, grid computation, etc. It is seen as a global strategic contributor to scientific and technological developments, and will be a catalyst in finding solutions to international scientific and societal issues."
The EU Earth Observation Programme Copernicus offers information services based on satellite and in situ acquired geospatial data. Open data access has greatly enhanced the potential for realizing a range of societal benefits, the proposed Joint Master Programme addresses the associated capacity building needs on a graduate level. From the above quoted document "Digital Earth plays a strategic and sustainable role in addressing challenges to human society as natural resource depletion, food and water insecurity, energy shortages, environmental degradation, natural disasters response, population explosion, and, in particular, global climate change" it is made clear that a European qualification in this field will have to address key themes like Atmosphere and Climate, Marine and Land Environments, Security and Emergency Management.
The University of Salzburg is building on its established 30 year record of educating' experts for a spatial view', and is joining forces with partners complementing its geospatial methodology foundations with key specialisation components. Olomouc University's leadership in geovisualisation and geocommunication, and University of South Brittany alternatively emphasizing methods in big earth data / image analytics and machine learning. Jointly, these tracks offer outstanding candidates a pathway towards excellence in advanced Geoinformatics addressing the Copernicus and Digital Earth missions and objectives.
Geospatial technologies and underlying concepts have become indispensable elements in today's information society, location connects ('joins') information assets and provides the context for perceptions, decisions and actions. A lack of qualifications has been identified by multiple actors as a key bottleneck and impediment for more broadly leveraging the potential of Geoinformatics to managing our world in all its geospatial facets, including addressing Sustainable Development Goals.


See more info on website cde.sbg.ac.at Facebook TwitterCluster #2Cluster #2Cluster #2Cluster #2
---
Students intake 1 (2019–2021)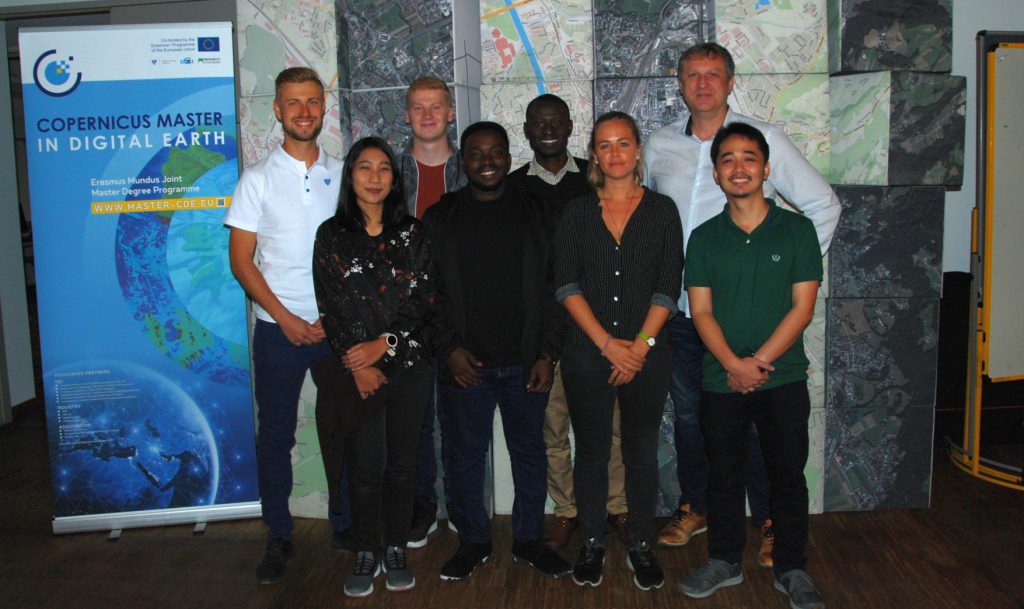 ADE Bismark: VISUALIZATION OF GEOGRAPHIC DATA USING GOOGLE CLOUD PLATFORM
supervisor: Mgr. Rostislav Nétek, Ph.D.
DE GOROSTIZAGA Sayana: MAPPING MANGROVE FORESTS: PROCESSING AND VISUALIZATION OF MULTI-SENSOR EARTH OBSERVATION DATA FOR THE COLOMBIAN PACIFIC COAST
supervisor: Mgr. Rostislav Nétek, Ph.D.
JIMOH Sheriff: Mapping and monitoring slums using geoinformation technologies
supervisor: RNDr. Jan Brus, Ph.D.
LUZ Leonard: Designing a Thematic Atlas on the Geospatial Impact of COVID-19
supervisor: RNDr. Alena Vondráková, Ph.D., LL.M.
MINHA NOOR Sultan: Development of a georeferenced eye-movement data creation tool for interactive webmaps
supervisor: RNDr. Stanislav Popelka, Ph.D.
RIZCANOFANA Rochamukti: GIS-BASED SOLAR PHOTOVOLTAIC POTENTIAL MODELLING IN THE URBAN AREA
supervisor: RNDr. Jan Brus, Ph.D.
SCHAFER Nelson: Map Animation of Shipping Traffic in Adobe After Effects from GIS data
supervisor: prof. Vít Voženílek, CSc.
---