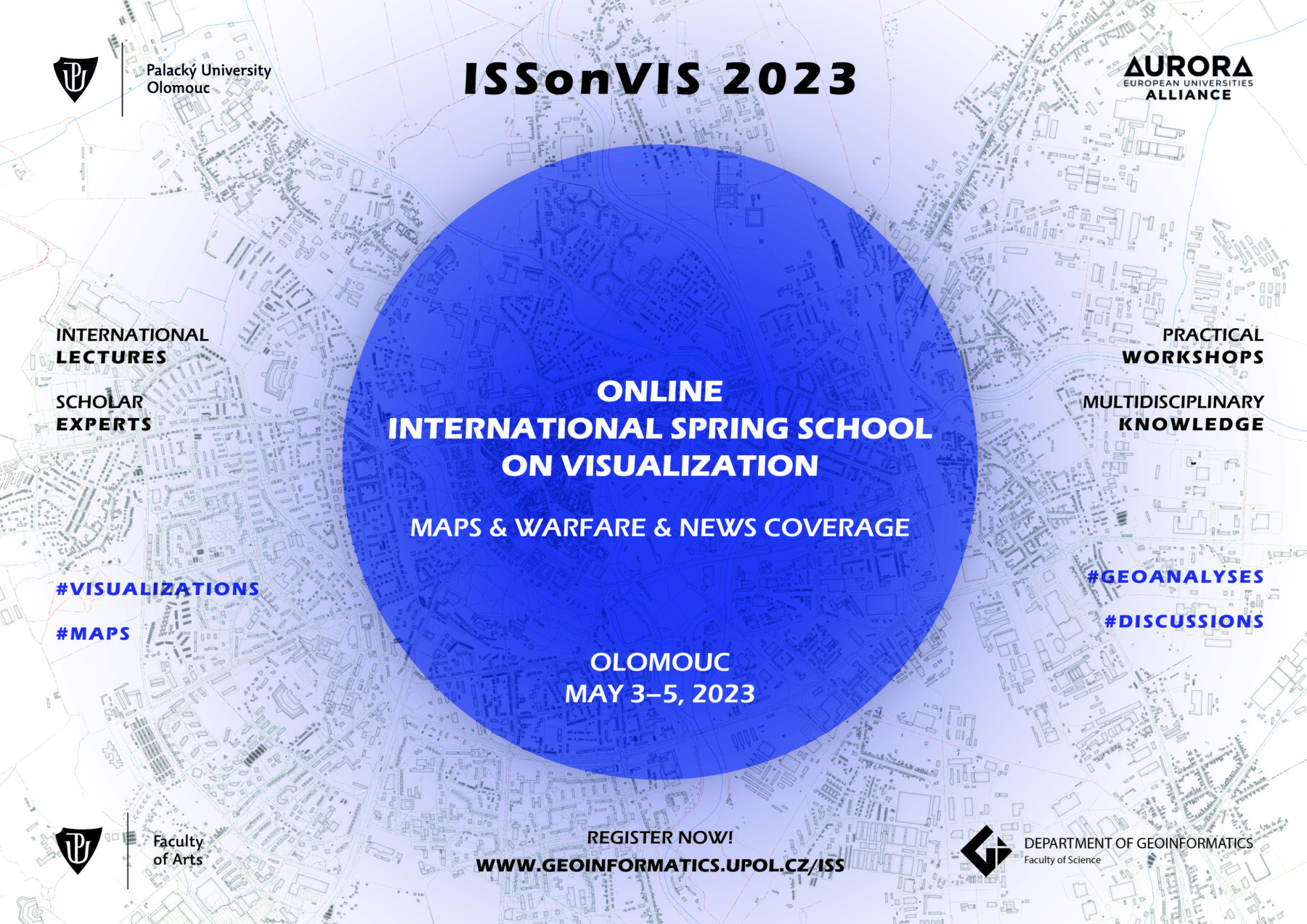 "ISSonVis 2023"
International Spring School on Visualization
— Maps & Warfare & News coverage —
3-5 May 2023
Online Venue: Department of Geoinformatics (Palacký University Olomouc, Czechia) via MS TEAMS
Topics: Geography of warfare, maps and/of armed conflict, (geo)visualisations in media
Experts: 
Alexandra Iburg & Bouke van Gorp (Utrecht University, The Netherlands)
Vladimír Polách (UPOL, Czechia)
Svitlana Khylyuk (Ukrainian Catholic University, Ukraine)
Jurij Pidlisnyj (Ukrainian Catholic University, Ukraine)
Martin Jirušek (Masaryk University Brno, Czechia)
Vít Voženílek (UPOL, Czechia)
ISSonViS organizers:
Vít Voženílek (UPOL)– coordinator and supervising lecturer (cartography)
Pavlína Flajšarová (UPOL)– coordinator and supervising lecturer (main topic)
Vít Pászto (UPOL)– coordinator and admin support
ISSonVis mission:
Unfortunately, warfare has been firmly tied to humanity since the very beginning. There has never been a period when armed conflicts, large or small, have ceased in different parts of the world. Apart from the conflict in the Balkans, Europe has perhaps not experienced such a close proximity to war since the Second World War as it is experiencing now, i.e. the war in Ukraine.
The International Spring School on Visualization (ISSonVis) aims to offer another angle on warfare, not only in the context of today's events, but also retrospectively into history. The perspective that the spring school brings will focus on the use of maps in wartime (past and present), the importance of spatial intelligence as well as contemporary ways of war reporting and the use of visualizations. Practical demonstrations and exercises on how to work with spatial data on armed conflicts will also be an integral part of the Spring School. The main objective of the Spring School is to explore links and relationships between maps, history of warfare and contemporary examples of armed conflicts and their geovisualisation. Despite the Spring School is highly multidisciplinary in its extent, the main objective manifests unique nature and status of spatial information used in warfare throughout the history of humankind.
The SSonVis is subdivided into lectures, guided practices and edutainment sessions. The concept of the summer school is set up to be open to both geoinformatics and humanities students with no limitation on their level of study (Bachelor, Master, PhD).
ISSonVis programme (—may be subject of change—):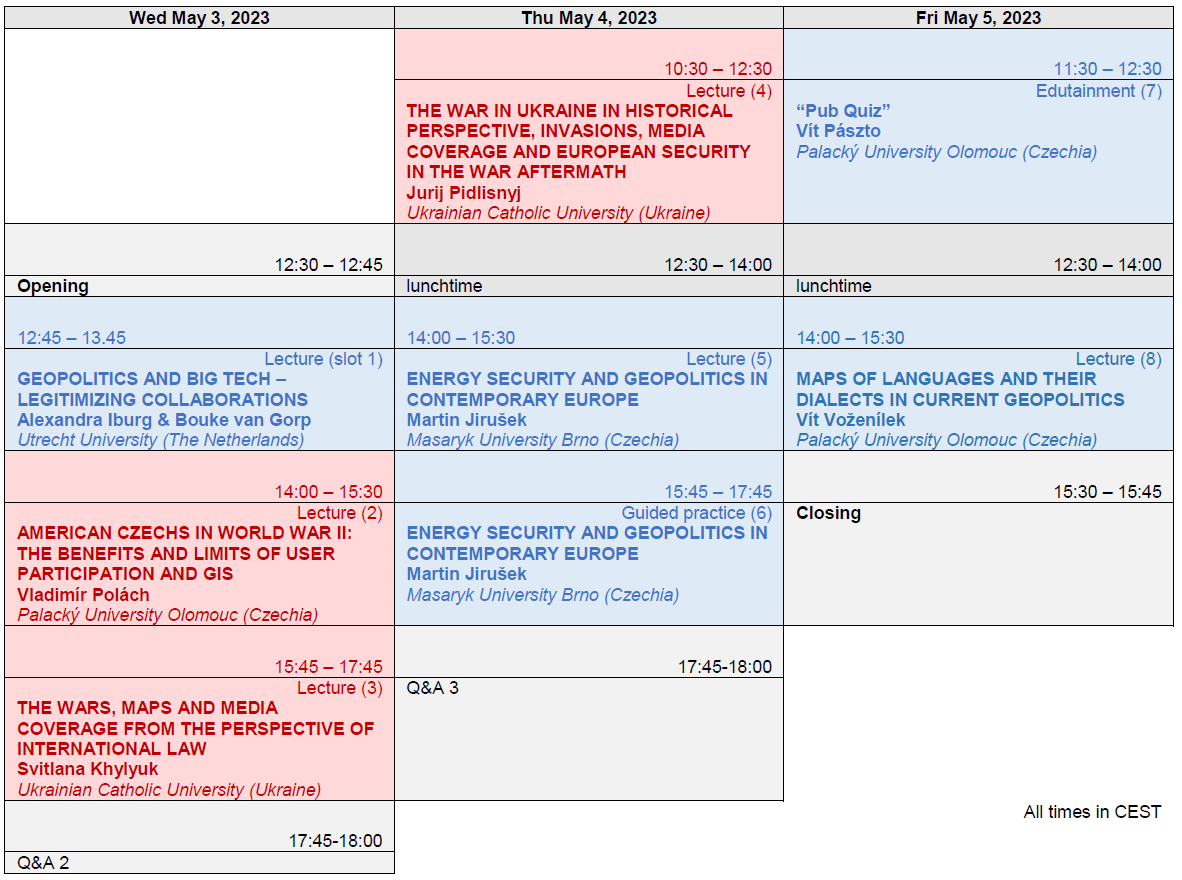 ---
Registration & Fee
The registration fee is set to be a "flat" price of 75 EUR and allows to:
access to all lectures and workshops led by international scholar experts
gain new knowledge in the field of geovisualisation 
have an opportunity to discuss own work with:

other students
international experts
and expert buddies from the department of geoinformatics

get new international contacts useful for future career
get access to all learning and teaching materials
certificate of attendance
ECTS credits (where applicable)
---
REGISTRATION FORM
Right after the registration you can choose a payment method (payment by card is prefered). You will be provided with a receipt/invoice upon payment.
Payment must be made by 1 May 2023.
---
Contact: vit.paszto(at)upol.cz