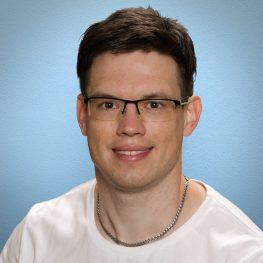 Radek BARVIR
PhD student
+420 585-63-4583
radek.barvir@upol.cz
office no. 2.33 (research internship in Tartu until the end of April)
office hours: by appointment or personally in Tartu
Research
cartography, map load, 3D printing, 3d modeling
dissertation topic: Metrics for evaluating load of maps based on raster formats
supervisor: Prof. Vít Voženílek
Education
2017 – present, Geoinformatics and cartography (PhD), Palacký University in Olomouc
Dissertation topic: Metrics for evaluating load of maps based on raster formats
2015 – 2017, Geoinformatics (masters), Palacký University in Olomouc
Diploma thesis: 3D printing of tactile maps linkable with mobile devices (web)
2012 – 2015, Geoinformatics and geography (bachelors), Palacký University in Olomouc
Bachelor thesis: Implementation of 3D printing for creating physical terrain and surface models (web)
Internships
2020 (03), CEEPUS Short Term mobility, Óbuda University Budapest, Székesfehérvár, Hungary
2019 (11), 5th AGILE PhD School 2019, University of Tartu, Tartu, Estonia
2019 (04-05), Spatial Information Management (AKTION research internship), Fachhochschule Kärnten, Villach, Austria
2017 (05), GeoServices-4-Sustainability (GeoS4S ERASMUS+ summer school), Asian Institute of Technology, Bangkok, Thailand
2016 (08-12), Geomatics (Erasmus+ study internship), Norwegian University of Science and Technology, Trondheim, Norway
Experience
2020 – now, research group member in the project TAČR TL03000679: Redukce informačního deficitu a rozvoj představivosti osob se zrakovým postižením prostřednictvím 3D modelů s auditivními prvky
2018 – now, research group member in the project TAČR TL01000507: Rozvoj samostatného pohybu prostřednictvím taktilně-auditivních prostředků
2018 – now, research group member in the project 18-05432S in panel P404: Prostorová syntéza založená na pokročilých metodách geocomputation
2019, research group member in the project Peregrinus Silva Bohemica – Multimediální a digitální turistický průvodce pro přeshraniční historické cesty v Bavorském lese a na Šumavě, EU Structural Funds, project n. 60
2017, analysis and digitizing of  intravilan area, Urban Planner s. r. o.
2015 – 2017, 3D printing operator, UPrint 3D, The Science and Technology Park of UPOL
2015 – 2016, 3D printing specialist, member of the project research group TouchIt3D – Proof of Concept
2015, work experience during study, Prusa Research s. r. o.
Membership in professional organisations
2017 – 2020, vice-president of Czech Quidditch Association
Lecturing
Cartography 1 (KGI/KART1) – 3D in cartography, map complexity etc.
Cartography 2 (KGI/KART2) – 3D cartography (tactile maps, terrain modelling) etc.
Digital Elevation Models (KGI/DIMOR) – selected tutorials, semester paper
3D technologies in geoinformatics (KGI/TRID) – vybraná cvičení
Computional Methods in Cartography (KGI/VYPOK) – morphometrics tutorial
Atlas Cartography (KGI/ATKAR) – digital atlases
Publishing
BRUS, Jan and BARVÍŘ, Radek. Coping with Integrating Low-Cost 3D Printing and Surface Models: A Case Study on Prusa i3. In: Surface Models for Geosciences. Springer International Publishing, 2015, s. 45–59. DOI: 10.1007/978-3-319-18407-4_5.
BRUS, Jan and BARVÍŘ, Radek. Tvorba fyzických modelů terénu na stolních 3D tiskárnách. In: Geografické rozhledy, 2016, 25(5), s. 20–21. ISSN 1210-3004.
BARVÍŘ, Radek. 3D printing of tactile maps linkable with mobile devices. In: Student V4 Geoscience Conference and Scientific Meeting GISáček 2017.
BARVÍŘ, Radek, VONDRÁKOVÁ, Alena and RŮŽIČKOVÁ, Veronika. Graphics complexity of tactile maps and user study. In: SGEM 2018 Proceedings, 2018.
VONDRÁKOVÁ, Alena, BARVÍŘ, Radek, VOŽENÍLEK, Vít and BRUS, Jan. The use of modern technologies in the geospace 3D visualization. In: SGEM 2018 Proceedings, 2018.