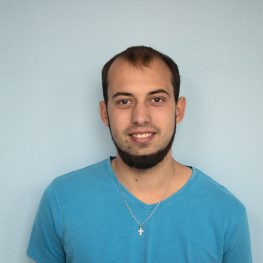 Research
Spatial data mining, data in public transport, Python scripting
Education
2019 – present, Geoinformatics and cartography (Ph.D.), Palacky University in Olomouc
thesis: Data mining of public transport spatial data
2018 (02-07), Geoinformatics and Mining Geodesy (Erasmus+), AGH university of science and technology, Kraków
final project: RoadSignRecognition (web)
2017 – 2019, Geoinformatics (Ing. – equivalent of MSc.), VŠB – technical university of Ostrava
thesis: Multicriteria Evaluation of Risks Related to Methan Emanation (web)
2014 – 2017, Geoinformatics and geography (Bc.), Palacky University in Olomouc
thesis: Navigation application for aerial photogrammetric imaging (web)
Experience
2019 – present, Koordinátor ODIS, GIS analyst
Data and analytic center. Public transport and mobility in Moravian–Silesian region – smart region. Externist & collaboration on Ph.D. research.
2016 – 2019, QI GROUP a. s., ERP developer & analyst
ERP system QI developement, mainly modules processes, workflow, projects, organization and management.
Lecturing
Programming 1 (KGI/PRG1) – Python basics (2 weeks in summer semester)
Programming 2 (KGI/PRG2) – Python in GIS (1 week in summer semester)
Database Systems (KGI/DATAS) – excercises (occasionally)
Data Mining (KGI/DAMIN) – excercises in R (2 hours per week in winter semmester)
"This class is supported by DataCamp, the most intuitive learning platform for data science. Learn R, Python and SQL the way you learn best through a combination of short expert videos and hands-on-the-keyboard exercises. Take over 100+ courses by expert instructors on topics such as importing data, data visualization or machine learning and learn faster through immediate and personalised feedback on every exercise."
Publishing
Netek, R.; Masopust, J.; Pavlicek, F.; Pechanec, V. Performance Testing on Vector vs. Raster Map Tiles—Comparative Study on Load Metrics. ISPRS Int. J. Geo-Inf. 2020, 9, 101.
Masopust, Jan. Multifaktorové hodnocení rizik ve vztahu k výstupům metanu. In: Sborník GISáček 2019. ISBN 978-80-248-4293-6
Masopust, Jan. Navigation application for aerial photogrammetric imaging. In: Student V4 Geoscience Conference and Scientific Meeting GISáček 2017. 978-80-248-4033-8