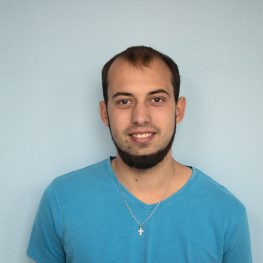 Research
Spatial data mining, data in public transport
Education
2019 – present, Geoinformatics and cartography (Ph.D.), Palacky University in Olomouc
thesis: Data mining of public transport spatial data
2018 (02-07), Geoinformatics and Mining Geodesy (Erasmus+), AGH university of science and technology, Kraków
final project: RoadSignRecognition (web)
2017 – 2019, Geoinformatics (Ing. – equivalent of MSc.), VŠB – technical university of Ostrava
thesis: Multicriteria Evaluation of Risks Related to Methan Emanation (web)
2014 – 2017, Geoinformatics and geography (Bc.), Palacky University in Olomouc
thesis: Navigation application for aerial photogrammetric imaging (web)
Experience
2019 – present, Koordinátor ODIS, GIS analyst
Data and analytic center. Public transport and mobility in Moravian–Silesian region – smart region.
2016 – 2019, QI GROUP a. s., ERP developer & analyst
ERP system QI developement, mainly modules processes, workflow, projects, organization and management.
Lecturing
Data Mining (KGI/DAMIN) – excercises in R.
"This class is supported by DataCamp, the most intuitive learning platform for data science. Learn R, Python and SQL the way you learn best through a combination of short expert videos and hands-on-the-keyboard exercises. Take over 100+ courses by expert instructors on topics such as importing data, data visualization or machine learning and learn faster through immediate and personalised feedback on every exercise."
Database Systems – excercises.